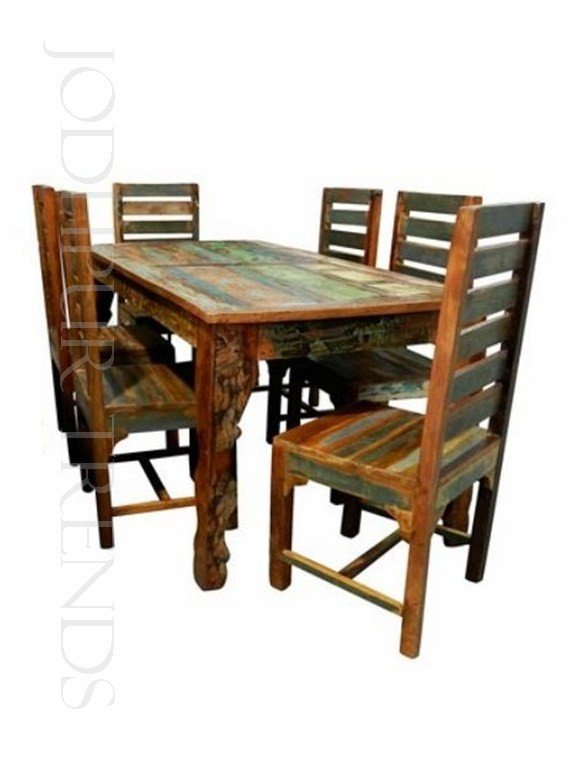 Have a great dining experience with our beautifully Indian Reclaimed Dining Contemporary in design, this minimalistic design wooden dining table looks simply beautiful. Crafted from reclaimed wood, this dining set comes with a dining table & six chairs. Makes for a perfect place to bond with near and dear ones!
Product Details :
Product : Jodhpur Dining Set
Product Code : JTRECds120
Contains : 1 Six Seater Table & 6 Chairs  
Dimension in Inches  : 72″Lx36″Wx30″H  Table | 17″Lx17″Wx18″H Chairs
Used Material : Mix Old Wood
Colour : multicolor
C.B.M : 0.90
For Price Information Please email or call us
Category: Dining Table & Chair | Dining Sets
Buy Restaurant Dining Tables And Chairs | Buy Restaurant Dining Tables And Chairs
---
"JODHPUR TRENDS" is the Manufacturer, Exporter and Supplier of a wide variety of products which includes:
Vintage Industrial Furniture, Retro Furniture, Rustic Furniture, Loft Furniture, Shabby Chic Furniture, Factory Furniture, Cast Iron Furniture, Wrought Iron Furniture, Handcrafted Furniture, Leather Sofa Furniture, Reclaimed Furniture |  Recycled Furniture, Antique Reproduction Furniture, Designer Furniture, Hospitality Furniture [ Hotels Furniture | Resort Furniture | Motel Furniture | Holiday Resorts Furniture | Safari Tent Furniture | Restaurant Furniture | Cafe Furniture | Bistro Furniture | Bar Furniture | Pub Furniture | Brewery Furniture | Night Club Furniture ]  Contract Furniture [ Event Furniture | Banquet Furniture | Wedding Furniture] & Commercial Furniture [ Office Furniture | Co-Working Spaces Furniture | Co-Living Spaces  Furniture | Hostel Furniture | Canteen Furniture | Food Court Furniture | School Furniture | Garden Furniture ]
---
Available Delivery-Shipping Location In India
Mumbai, Delhi, Bangalore, Hyderabad, Ahmadabad, Chennai, Kolkata, Surat, Pune, Jaipur, Lucknow, Kanpur, Nagpur, Indore, Thane, Bhopal, Visakhapatnam, Patna, Vadodara, Ghaziabad, Ludhiana, Agra, Nashik, Faridabad, Meerut, Rajkot, Varanasi, Srinagar, Aurangabad, Amritsar, Navi Mumbai, Allahabad, Howrah, Ranchi, Gwalior, Jabalpur, Coimbatore, Vijayawada, Madurai, Raipur, Kota, Chandigarh, Guwahati, Sholapur, Bareilly, Mysore, Gurgaon, Aligarh, Jalandhar, Bhubaneswar, Thiruvananthapuram, Guntur, Bhiwandi, Noida, Kochi, Dehradun, Ajmer, Ujjain, Silliguri, Jammu, Mangalore, Udaipur, Shimla, Gangtok, Pondicherry, Anand, Goa, Daman and Diu. For delivery to other Indian Cities please contact us.
Available Delivery-Shipping Location in Asia : Armenia, Azerbaijan, Bhutan, Brunei, Cambodia, China, Indonesia, Iran, Japan, Jordan, Kazakhstan, Kyrgyzstan, Laos, Malaysia, Maldives, Mauritius, Mongolia, Myanmar, Nepal, North Korea, Palestine, Philippines, Russia, Singapore, South Korea, Sri Lanka, Taiwan, Thailand, Turkey, Turkmenistan, Uzbekistan, Vietnam. For delivery to other Asian countries please contact us.
Available Delivery-Shipping Location in Gulf  : Bahrain, Kuwait, Oman, Qatar, Saudi Arabia, Saudi Arabia, United Arab Emirates UAE [ Abu Dhabi, Ajman, Sharjah, Dubai, Fujairah, Ras Al Khaimah, Umm Al Quwain ]. For delivery to other Gulf countries please contact us.
Available Delivery-Shipping Location in South & North America:  Antigua and Barbuda, Bahamas, Barbados, Belize, Canada, Costa Rica, Cuba, Dominica, Dominican Republic, El Salvador, Grenada, Guatemala, Haiti, Honduras, Jamaica, Mexico, Nicaragua, Panama, Saint Kitts and Nevis, Saint Lucia, Saint Vincent and the Grenadines, Trinidad and Tobago, United States of America ( USA ) , Argentina, Bolivia, Brazil, Chile, Colombia, Ecuador, Guyana, Paraguay, Peru, Suriname, Uruguay, Venezuela. For delivery to other south & North American countries please contact us
Available Delivery-Shipping Location in Europe: Austria, Belgium, Bulgaria, Croatia, Cyprus, Czech Republic, Denmark, Estonia, Finland, France, Germany, Greece, Hungary, Ireland, Italy, Latvia, Lithuania, Luxembourg, Malta, Netherlands, Poland, Portugal, Romania, Slovakia, Slovenia, Spain, Sweden, United Kingdom ( UK ) . For delivery to other European countries please contact us.
Available Delivery-Shipping Location in Australia and Oceania: Australia, New Zealand, Fiji, Kiribati, Marshall Islands, Micronesia, Nauru, Palau, Papua New Guinea, Samoa, Solomon Islands, Tonga, Tuvalu, Vanuatu. For delivery to other Australian | Oceania countries please contact us.
Available Delivery-Shipping Location in Africa: Algeria, Angola, Benin, Botswana, Burkina Faso, Burundi, Cabo Verde, Cameroon, Central African Republic, Chad, Comoros, Democratic Republic of the Congo, Republic of the Congo, Cote d'Ivoire, Djibouti, Egypt, Equatorial Guinea, Eritrea, Eswatini, Ethiopia, Gabon, Gambia, Ghana, Guinea, Guinea-Bissau, Kenya, Lesotho, Liberia, Libya, Madagascar, Malawi, Mali, Mauritania,  Morocco, Mozambique, Namibia, Niger, Nigeria, Rwanda, Sao Tome and Principe, Senegal, Seychelles, Sierra Leone, South Africa, South Sudan, Tanzania, Togo, Tunisia, Uganda, Zambia, Zimbabwe. For delivery to otherAfrican countries please contact us
CBM0.09

Adjustable Bar Stool | Restaurant & Bar Stools

CBM0.51

Adjustable Bar Table | Bar Tables

CBM0.85

Adjustable Bar Table | Metal Furniture Manufacturers

CBM0.66

Adjustable Dining Table cum Bar Table | Vintage White Furniture

CBM0.07

All Leather Pouf | Commercial Leather Seating Furniture

CBM0.11

Alluring Carved Bedside Table | Furniture Vintage

CBM0.23

Alluring Pub Table | Commercial Pub Tables

CBM0.06

Antique Bar Stool | Antique Reproduction Bar Furniture

CBM0.53

Automobile Counter cum Cabinet | Retro Furniture

CBM0.44

Aviator Armchair | Bespoke Furniture

CBM0.37

Aviator Coffee Table | Cafe Tables

CBM0.82

Bespoke Loveseat in Leather | Custom Made Commercial Seating

CBM0.31

Black Coffee Table | Coffee Shop Furniture

CBM0.54

Boat Bookcase | Reclaimed Wood Furniture

CBM0.15

Boho Dining Chair | Cafe Furniture

CBM1.05

Bookcase in Mango Wood | Commercial Furniture

CBM0.36

Cast Iron Table | Commercial Cafe Tables

CBM0.05

Ceiling Light | Retro Furniture India

CBM0.27

Counter Stool | Industrial Chairs